guidelines to charting your fertility cycle, page 10 of 26
2. The Mucus Symptom
Unlike the temperature rise, the mucus symptom appears for several days before ovulation, as it is needed to keep sperm alive until the egg is released. This sequence of photos of mucus, taken up to the time of PEAK Day, gives an example of how the mucus changes and develops up to the time of ovulation, and what qualities you need to look for:
1: start of mucus symptom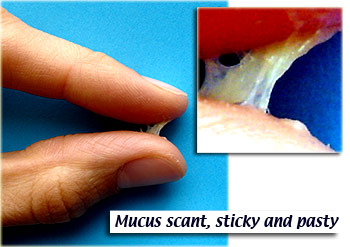 For some women, they normally have no mucus discharge at all and so, when this scant sticky mucus appears, they are entering the fertile phase.
For others, this type of scant mucus may be their "constant discharge" and for them it may not be the start of their fertile phase yet.
In the learning phase, until couples are able to recognise and test the limits of their own fertile window, all mucus after the period must be regarded as potentially fertile.
2: increasing in amount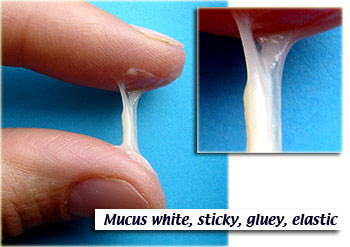 This level of mucus would be potentially fertile for all women, because it is more profuse and showing stretchy qualities.
It would cause a change in sensation for the woman. She would no longer feel DRY but instead would have a damp, even wet, sensation at the vaginal opening (vulva).
Although still quite dense in appearance, it would not be an absolute barrier to sperm. Swimming lanes will be opening up in it and it is becoming alkaline.
3: increasing and becoming clearer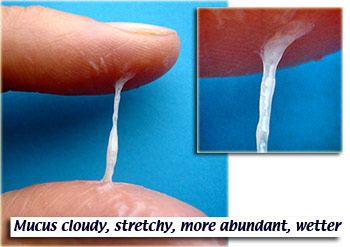 Now the mucus has more water content, is stretching more, and despite the whitish dense areas, it is definitely showing clearer areas, indicating increasing alkalinity and the opening of even more swimming lanes.
The sensation at the vulva would now be much wetter.
4. clear like raw egg-white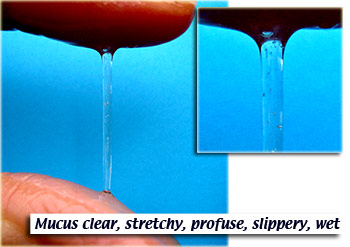 This last photo shows how clear, wet, stretchy and slippery the fertile mucus can become around ovulation and why it is usually compared with raw egg-white. It may not seem quite so clear every cycle, or you may in fact just miss seeing it at this level.
Sometimes it may even look a bit brown or reddish, due to tiny loss of blood at this point.
When the mucus has this appearance, ovulation is very close. This is the most fertile time of the whole cycle. The last day of this mucus is called PEAK day.
the mucus symptom highlights the fertile phase
As seen from the photos, the build up and changes in the mucus symptom give warning of approaching ovulation. Therefore, all mucus appearing before ovulation is potentially fertile.
For those seeking to avoid pregnancy, it is vitally important to recognise the earliest appearance of mucus, so that intercourse can stop in time to avoid the fertile phase. Continuing with intercourse too far in the first part of the cycle is the most common cause of surprise pregnancy.